Fires In Southern California
NASA satellites continue to capture remarkable new images of the wildfires raging in Southern California. At least 14 massive fires are reported to have scorched about 425 square miles from north of Los Angeles to southeast of San Diego.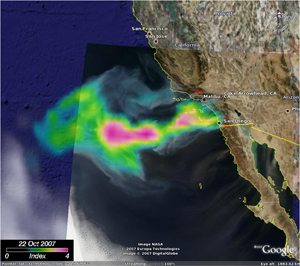 The images above show the smoke aerosol layer generated by the fires in Southern California, as seen by Aqua-MODIS (true color) and Aura-OMI (Aerosol Index overlaid over MODIS rgb), as it drifted over the Pacific Ocean on October 22. The OMI Aerosol Index maps the extent of the smoke layer taking advantage of the radiative transfer interaction between molecular scattering and aerosol absorption in the near-UV. The northern most part of the smoke layer lies over clouds but it is still clearly observed by OMI.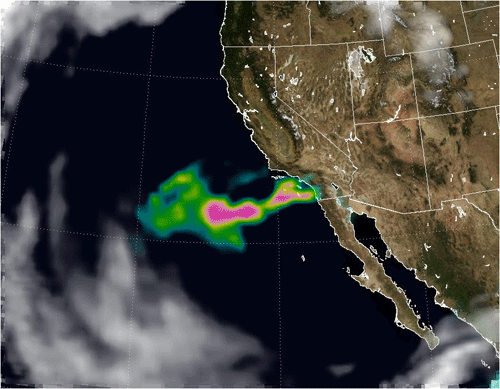 The animation shows a six-day sequence (Oct-22/27) of the OMI aerosol Index (AI) depicting the spatial extent of the smoke plume associated with the Southern California fires. The images show the OMI AI (and clouds from the OMI reflectivity) overlaid on the MODIS Blue Marble image. The smoke was first blown out over the Pacific but as the Santa Ana wind patterns changed, the aerosol layer drifted toward the northeast into Utah and Colorado. On the 25th and 26th the smoke layer is above the clouds.
View still images from this animation.
Oct 22 | Oct 23 | Oct 24 | Oct 25 | Oct 26 | Oct 27
10.31.07