California fires as seen from MODIS and OMI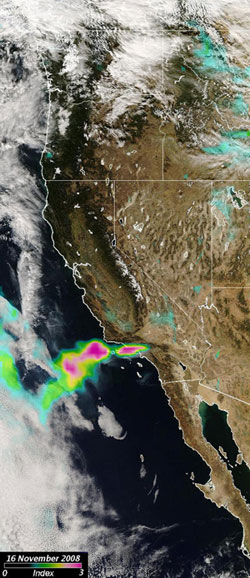 Smoke from the recent outbreak of fires in Southern California can clearly be seen via NASA satellites.
This image from the Moderate Resolution Imaging Spectroradiometer (MODIS) onboard NASA's Aqua satellite was taken on November 16, 2008. It shows the smoke drifting to the southwest from the Los Angeles basin to the waters of the Pacific Ocean. Measurements of the Aerosol Index by the Ozone Monitoring Instrument (OMI) onboard NASA's Aura satellite are overlayed on top of the MODIS image.
The Aerosol Index measures the difference in the amount of ultraviolet (UV) light in the atmosphere. The Aerosol Index scatters back at a given place and time to the amount of UV light that the atmosphere would scatter back if it were totally clear. It can effectively detect smoke that is otherwise hard to detect via MODIS imagery. That smoke is transported over bright surfaces such as the low level marine stratocumulus clouds just off the coast. As a result, UV measurements from instruments such as OMI can be used to help detemine the effect such aerosols have on clouds.
MODIS image courtesy the MODIS Rapid Response web site.
OMI AI image courtesy Colin Seftor, NASA Atmospheric Chemistry and Dynamics Branch
---
11.18.2008