A 12-year long global record of optical depth of absorbing aerosols above the clouds
The conventional satellite-based remote sensing aerosol products provide distribution of aerosols in cloud-free regions leaving vast cloudy areas unmonitored in terms of the presence of aerosols. OMI's near-UV spectral region offers unique ability of detecting the presence absorbing aerosols in clear as well as cloudy areas. Taking this advantage, OMI's OMACA algorithm retrieves the optical depth of UV-absorbing aerosols located above the cloud deck as well as aerosol-corrected cloud optical depth at 388 nm.
Introduces a novel satellite global product of above-cloud aerosol optical depth and aerosol-corrected cloud optical depth from Aura-OMI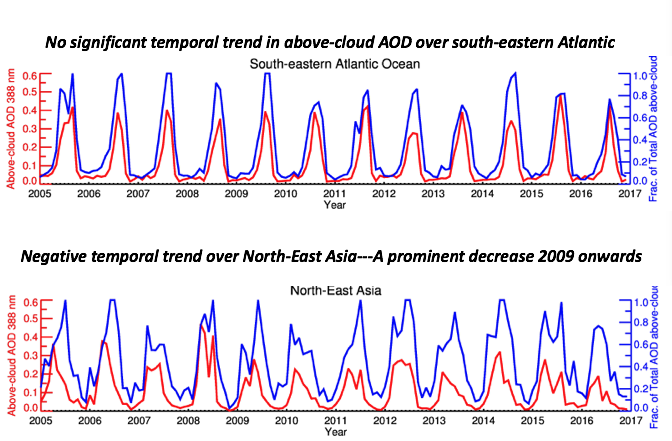 Product Name: Aura/OMI OMACA
Implications in aerosol-cloud radiation interaction studies
12-year monthly climatology of OMI above-cloud aerosol optical depth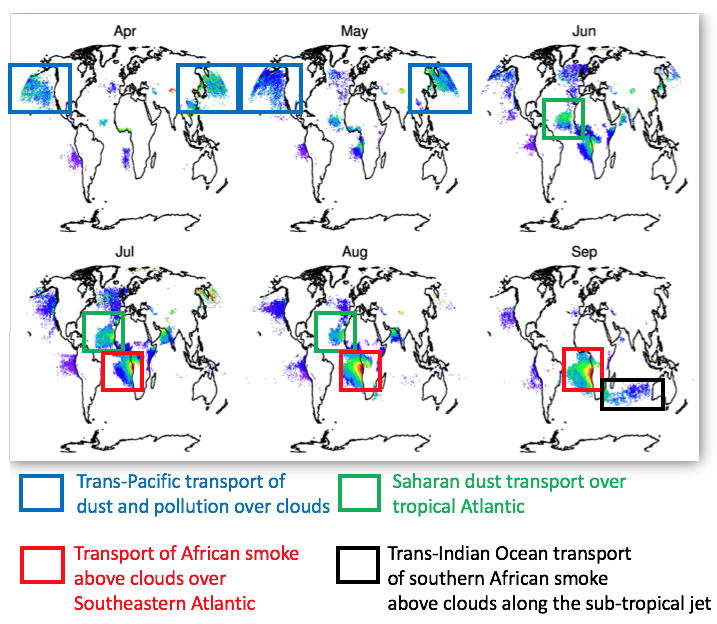 Enhanced near-UV 'color ratio' (UVAI) in the presence of absorbing aerosols above clouds can be related to a pair of aerosol and cloud optical depth
Scientific significance, societal relevance, and relationships to future missions:
Aerosol-cloud radiation interaction continues to be one of the leading uncertain components of the climate models, primarily due to the lack of an adequate knowledge of the complex microphysical and radiative processes of the aerosol-cloud system. The situations when layers of absorbing aerosols overlay low-level cloud decks are commonly found in several regions of the world. Contrary to the known cooling effects of these aerosols in cloud-free scenario over dark surfaces, the overlapping situation of absorbing aerosols over cloud can potentially exert a significant level of atmospheric absorption and produces a positive radiative forcing (warming) at top-of-atmosphere. The OMI/OMACA product is aimed to help in addressing this problem by providing a global distribution of above-cloud aerosol optical depth on a daily scale, which in conjunction with the clear-sky aerosol products would make the quantification of "all-sky" radiative effects of aerosols on climate possible.
Data Sources:
ATom observations are publicly available at https://doi.org/10.3334/ORNLDAAC/1581. The specific datasets derived here, including the ATom OH merge, ATom integrated columns, gridded OMI HCHO columns, and X[OH], are available at https://doi.org/10.3334/ORNLDAAC/1669.
---
References: Torres, O., H. Jethva, and P. K. Bhartia (2012), Retrieval of aerosol optical depth above clouds from OMI observations: Sensitivity analysis and case studies, Journal of Atmospheric Science, 69, 1037–1053, doi:10.1175/JAS-D-11-0130.1.

Jethva, H., Torres, O., and Ahn, C. (2018), A 12-year long global record of optical depth of absorbing aerosols above the clouds derived from the OMI/OMACA algorithm, Atmos. Meas. Tech., 11, 5837-5864, https://doi.org/10.5194/amt-11-5837-2018.

Dataset access: https://avdc.gsfc.nasa.gov/pub/data/satellite/Aura/OMI/V03/L2/OMACA/
7.2019