Reductions in nitrogen dioxide burden over north equatorial Africa from decline in biomass burning in spite of growing fossil fuel use
Ozone Monitoring Instrument (OMI) and MODerate-resolution Imaging Spectroradiometer (MODIS) data reveal that a decline in biomass burning has led to lower dry season tropospheric NO2 concentrations in north equatorial Africa, counter to what is expected for economically growing low- and middle-income regions.
Economic growth has traditionally been associated with increases in emissions of air pollutants such as nitrogen dioxide (NO2). But in biomass burning regions, background NO2 concentrations are already high during the dry season.
Our results show that NO2 VCDs decreased over the northern biomass burning region of sub-Saharan Africa by 0.35% yr-1 during the dry season between 2005 and 2017, in tandem with decreases in burned area and increases in fossil fuel emissions.
Spatial variation in long-term mean NO2 VCDs exhibit a relationship with GDP that is the inverse of what is expected under the traditional Environmental Kuznets Curve model. Instead of potentially following an inverted U-shaped curve, the relationship may follow an inverted N-shaped curve, but only during the dry season.
Dry Season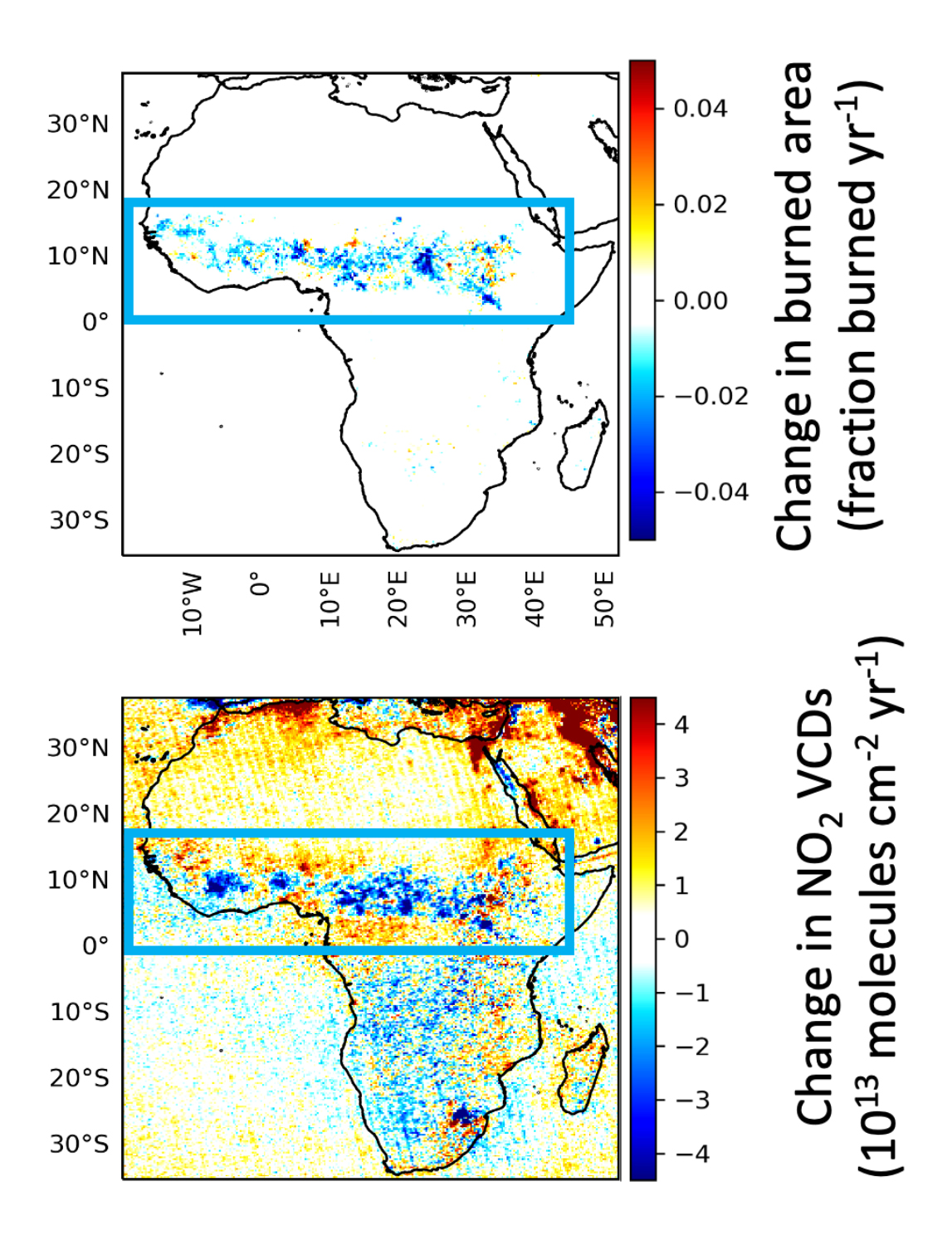 Technical Description of Figure:
The top left panel of the figure shows linear trends in burned area for the November through February dry season from 2005 through 2017; the bottom left panel shows the matching linear trends in tropospheric NO2. A statistical model (not shown) reveals that the change in burned area explains a substantial proportion of the variation in tropospheric NO2 column densities in the northern biomass burning region. The top right panel is a cartoon of the relationship between economic growth and pollution, often referred to as the Environmental Kuznets Curve. The traditional form of the relationship—in grey—has been observed in world regions with relatively low biomass burning emissions. The blue curve is a hypothesized form for the dry season of a biomass burning region, where background air pollution concentrations may be elevated. The bottom right panel shows mean tropospheric NO2 column densities over north equatorial African productive savannas during the dry season (November through February) over 2005-2017, and its spatial relationship with GDP density (GDP per unit area). The panel shows that tropospheric NO2 column densities do not increase with increasing GDP density, and instead decrease across a range of GDP densities.
Scientific significance, societal relevance, and relationships to future missions:
Socioeconomic development in low- and middle-income countries is thought to increase emissions of air pollutants, such as NO2. In Africa, fossil fuel use has nearly doubled since 2000, but vegetation fires—which cause substantial NO2 pollution—have declined, partly as a result of human activity. Satellite observations show that during the biomass burning season, NO2 concentrations in Africa's northern fire region declined by 4.5% between 2005 and 2017, potentially benefitting hundreds of millions of people. Statistical modeling suggests that this decline is associated with declining vegetation fires. During the biomass burning season, higher levels of economic productivity are associated with lower NO2 concentrations, suggesting that socioeconomic development in this region is resulting in net improvements to air quality.
Data Sources:
The standard product v3 level 2 tropospheric nitrogen dioxide (NO2) column densities from the Ozone Monitoring Instrument (OMI), the 500m MCD64A1 collection 6 burned area product from the MODerate-resolution Imaging Spectroradiometer (MODIS), the Tropical Rainfall Measuring Mission (TRMM) daily precipitation product (3B42), the Infrared Atmospheric Sounding Interferometer (IASI),'s Artificial Neural Network for IASI (ANNI-NN) (ANNI-NN) version 2.2R-I retrieval product for total column ammonia, and the Fast Optimal Retrievals on Layers for IASI (FORLI) version 20140922 retrieval algorithm for total column carbon monoxide.
References: N. Andela, C. Galy-Lacaux, M. Ossohou, K. Tsigaridis, and S. Bauer 2021. "Large reductions in NO2 burden over north equatorial Africa from decline in biomass burning in spite of growing fossil fuel use." Proceedings of the National Academy of Sciences 118: e2002579118. [10.1073/pnas.2002579118]
04.2021